Reliable "Proposing Power" that materializes customers' needs on their behalf
The Coordination Business is to discover and select suppliers and optimal products on behalf of customers based on the technical knowledge and market information gained in the Trading Business. Furthermore, through research and study on markets and products, we will develop and materialize customer needs. We are making proposals to further enhance our business and development. We also coordinate the introduction, supply, and sales of raw materials to domestic and overseas suppliers.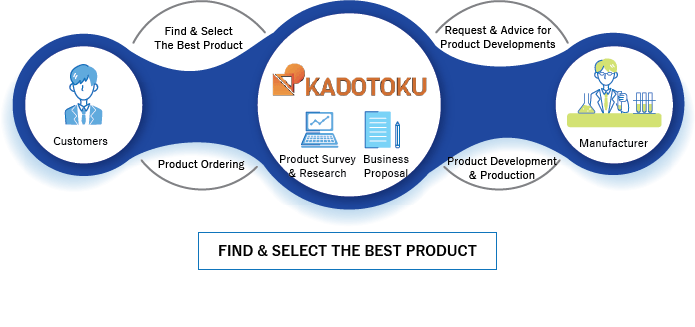 Beyond the realm of trading companies
"Development Ability" to create new products
Based on the technical know-how built up in the Coordination Business, the Manufacturing Business is carried out on behalf of the technical department of the manufacturer. We are developing new materials from a position closer to the manufacturer, after developing from just a trading company that handles products. We propose own unique plans and ideas to the market and customers, provide customers with newly developed products that have not yet existed in the world, respond to customer needs, and play a role in developing new seeds. In addition, many customers are moving overseas from Japan, and we believe that the overseas manufacturing business will become even more important in the future. We are working to expand our business by making use of the raw material procurement capabilities as a trading company and the knowledge of those with technical experience.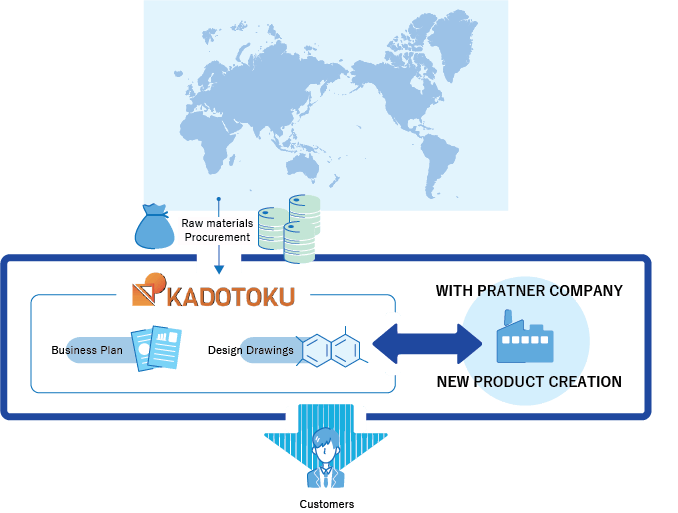 Become a Global Partner and Form a Global Network
Since its founding, Kadotoku has accumulated achievements such as dealing with overseas chemical leading companies and becoming a sales agent. While developing three pillars of business, Trading Business, Coordination Business, and Manufacturing Business, we collect and analyze various information from all over the world, such as knowledge of cutting-edge chemistry, needs required by the times, development and market trends. This gives us the flexibility to respond quickly to the progress of digitalization and the rapid changes in globalization.
Our manufacturing bases select reliable suppliers in Japan and overseas in response to customer requests. We will grow together with reliable technology, stable supply, and sustainable suppliers, and establish a local subsidiary in a timely manner to meet the on-demand of our customers. This year, we plan to establish a Taiwan Liaison Office as a local corporation, aiming to further form a global network.